Experiential Learning approach
The Future Food approach to learning focuses on the use of design thinking, mentorship, challenge-based work, and creativity sprints (aka Hackathons), all underpinned by a philosophy of 'prosperity' – making things the planet wants.
Training a new generation of climate-conscious leaders who are challenged to think from a foundation of values, embracing complexity, and oriented towards opportunity.
Learning through concrete projects and real-life challenges ensures understanding of essential needs, but also the power of co-designing and learning with and from others.
Resolving the challenges we currently face requires new ideas, new approaches, and a new mindset.
Prosperity thinking is an approach that aims to enable the design of a better food system starting from a shared inclusive idea of prosperity that encompasses not only economical growth but also social and environmental wellbeing.
It hopes to be an evolution of Design Thinking going beyond user-centered design to human and planet-centered growth.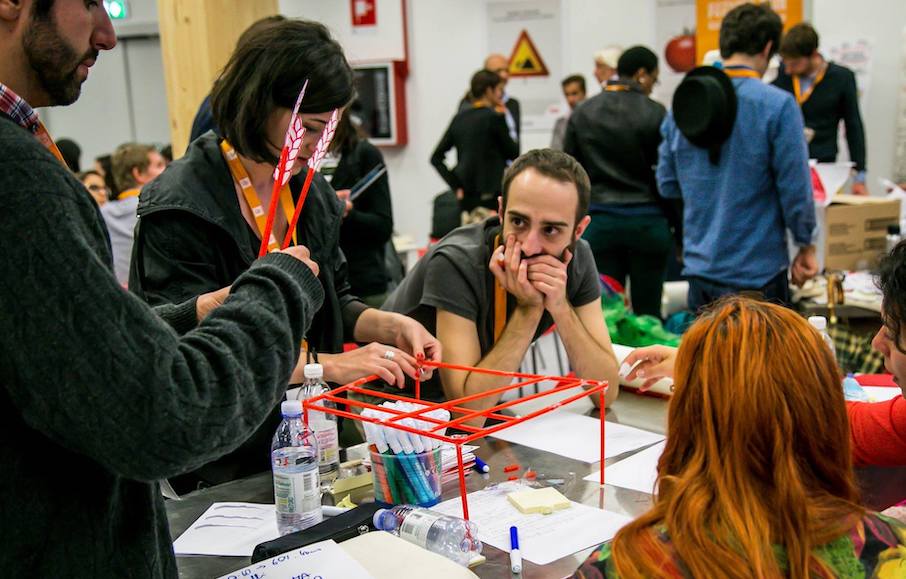 Also known as 'creativity sprints,' Hackathons involve a group of people working together to address a problem in a short period of time. It is an innovative tool used by a variety of sectors as a way to develop new solutions. 
Many Future Food training programs culminate with participants being organized into teams and assigned a specific challenge. Groups are led in how to use design thinking and other innovation tools to develop their own solution to their assigned challenge. Teams are supported by mentors through the process of benchmarking, ideation, and ultimately presenting a prototype.
These hackathons are climactic experiences, allowing participants to synthesize learnings and apply them to a real-world challenge. 
Sample Hackathon Challenges & Solutions
Future Food taps into its global network work to connect participants with relevant experts, entrepreneurs, and activists for one-on-one conversations. Mentors share advice, make introductions, offer feedback, or just have an interesting conversation. They help to inspire and encourage our participants during and after the training experiences.