Throughout London Food Tech Week, Google Food, the Future Food Institute, and the Food Innovation Program joined forces to bring Googlers the latest in food technology and the future of food –
3D printed food
.
Having sharpened their skills in Rome at the Maker Faire, the digital fabrication team (headed by Antonio Gagliardi and Kelly Angela Lee from the Food Innovation Program) were ready for another two-day showcase across two Google campuses – Central St Giles and 123 Buckingham Palace Road.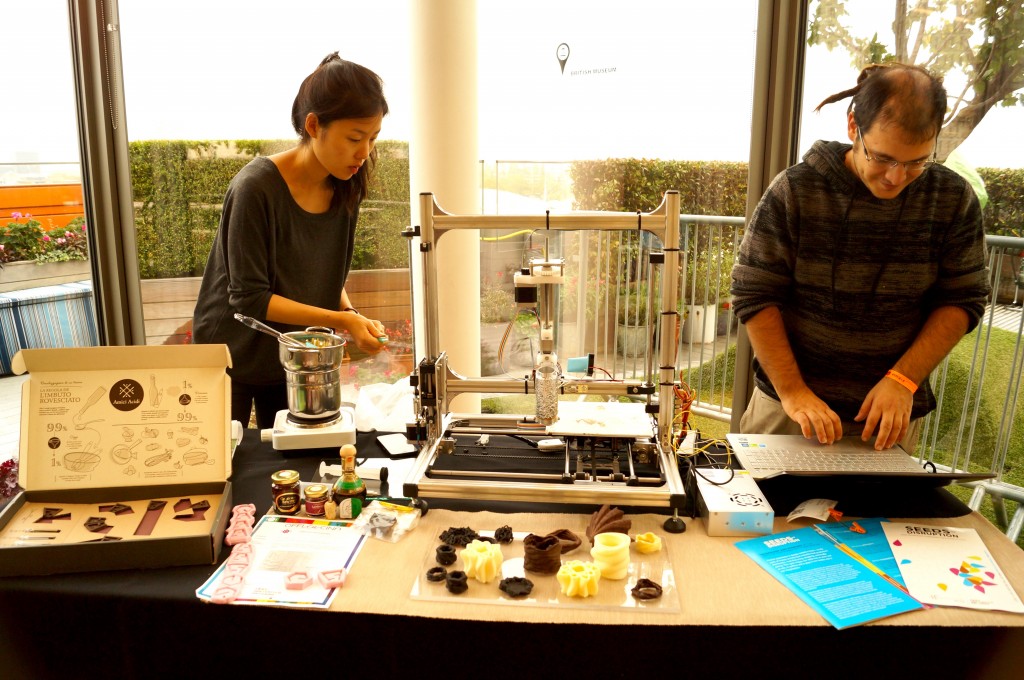 With an incredible panoramic view across the London skyline, the lunch café (yes, there is one café for breakfast, and another for lunch) at Central St Giles is glamorous. Sunlight (when London skies are feeling generous) streaks in from floor-to-ceiling windows, illuminating a large space filled with long communal wooden tables and dining chairs. Atop each table rests a bowl of fruit and a water vat infused with lemon, mint and cucumber to encourage healthy eating and drinking practices. There is a bread station with two soups on offer, a DIY salad bar, pre-plated salad options and a hot station with plant-centric meals.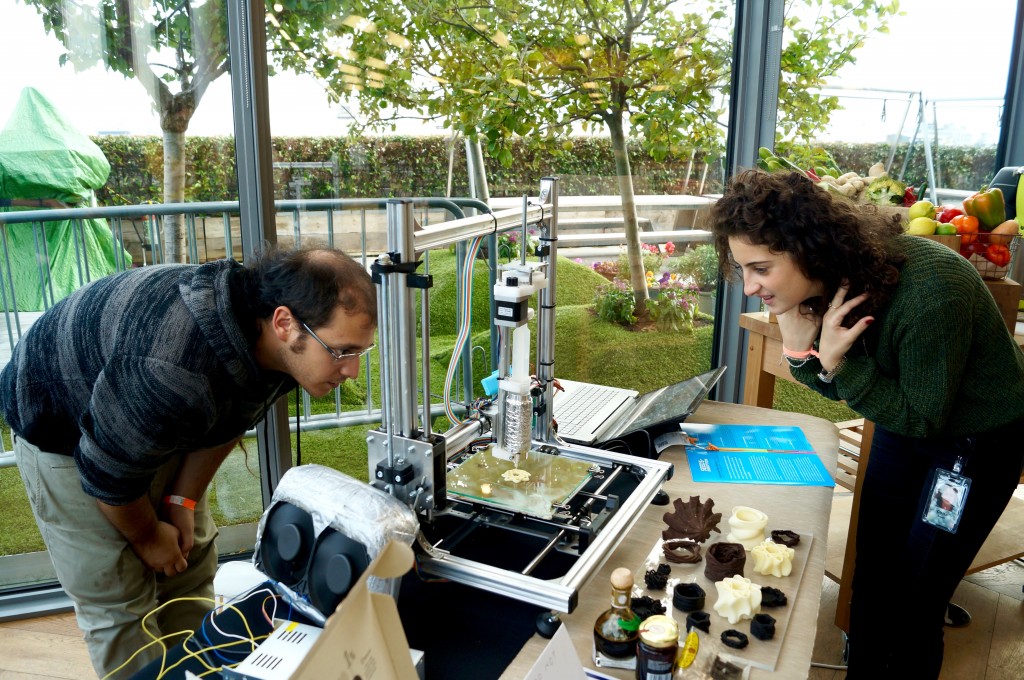 In the corner of the café Antonio and Kelly set up the 3D printer ready to operate through lunchtime and teach Googlers a thing or two about printing with white chocolate. "To be in Google HQ was absolutely amazing," say Antonio. "Having the chance to talk and share ideas with Googlers and explain to them
how the 3D printer works
was a curious challenge for me. I was expecting people in Google to know about the 3D printing world, but they didn't know much. Talking with them about the possibilities of experimenting with food and digital fabrication opened up new insights about a 'molecular cuisine 2.0.'"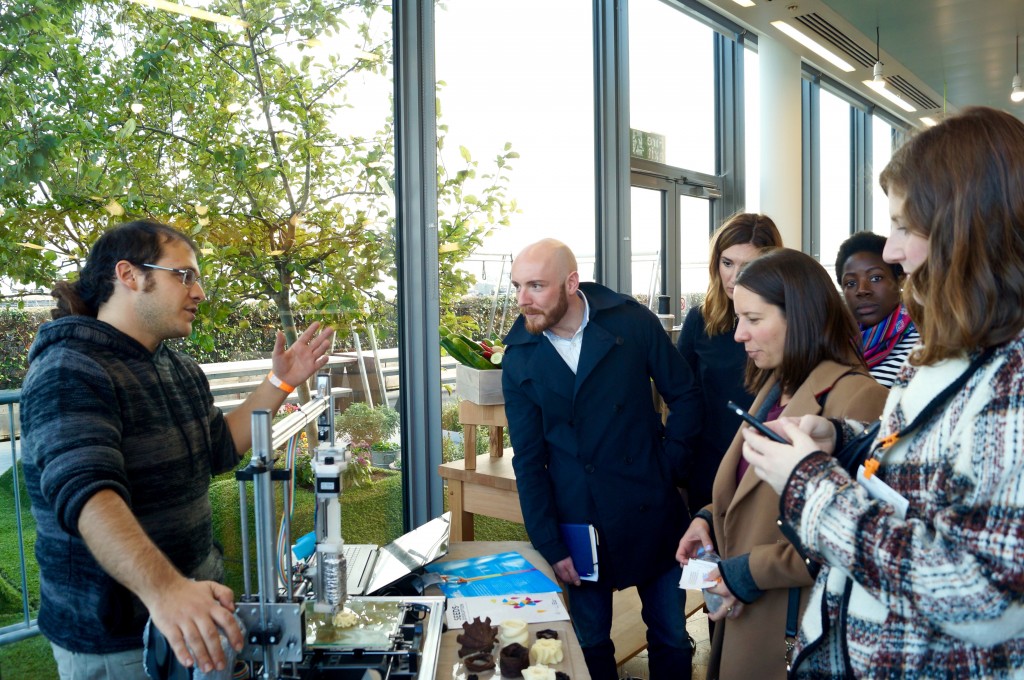 Throughout the day many curious employees made there way over, eager to engage with the futuristic device, and take videos and photographs to share with their colleagues and friends. The team started off printing spherical shapes, and later moved on to the Google 'G' and subsequently the complete logo, which was a big hit.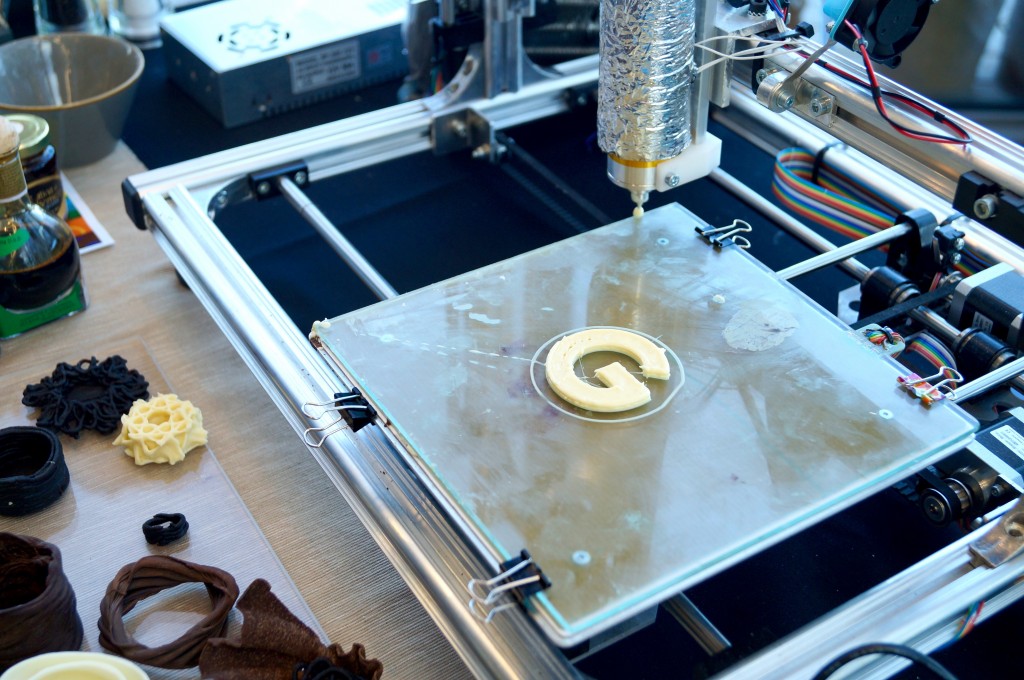 "Food and digital fabrication are completely new as a match, so what is going on around the globe is trying to translate some techniques from plastic fabrication to food. That's why people can't always understand the potential behind these experiments" says Antonio. "We arrived at Google showcasing our experience experimenting with chocolate and jellified food (balsamic vinegar) to demonstrate that there are signs of change. [Our] experiments can
define a new path in food manufacturing
. They can change something about reinventing food, having the opportunity to choose every single feature behind what you are going to eat, redefining crunchiness, texture, flavour, taste, colour…it's food alchemy. That's what is so cool if you take a closer look: new possibilities!"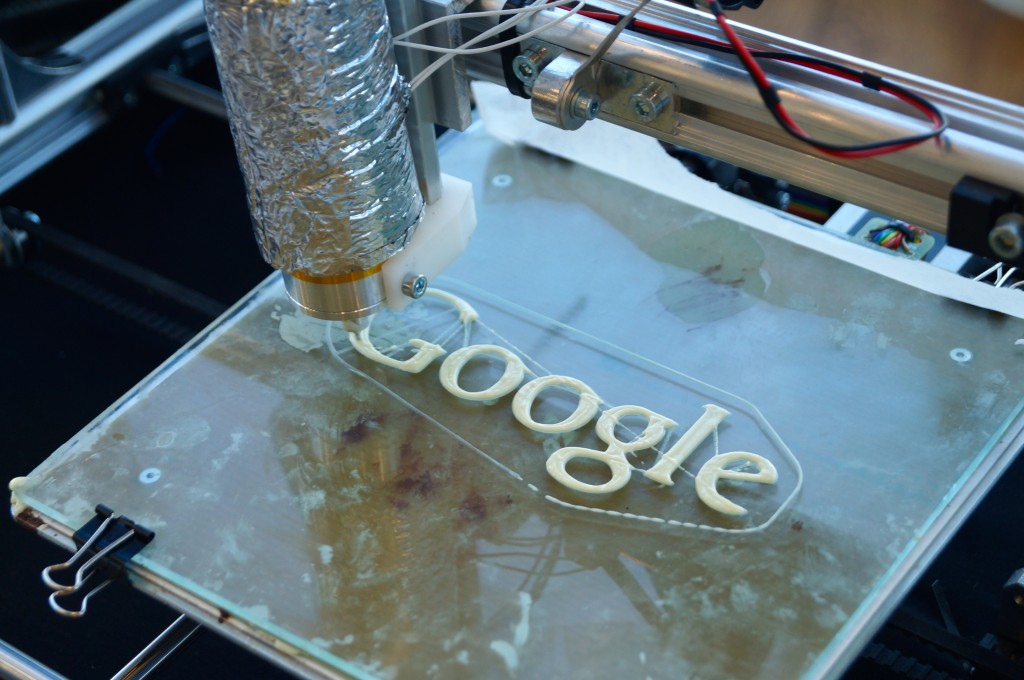 To be able to showcase innovation to a company that leads the world in technology was a genuinely exciting experience for the Future Food Institute and the Food Innovation Program fellows. Once again food was the connector to bring experience, emotion and technology together under one roof: this time, the Google roof. Not only were the days filled with collaboration and idea-sharing, but also a lot of good food and interesting people.