Three days of serious hacking, without sleep and often without shoes. 33 mentors. 87 hackers. 120 attendees. 11 great ideas. 5 final pitches and 1 winning team. This was Food Hack London,
an amazing weekend of creation and collaboration
to create game changing food tech solutions for a generation growing up with a broken food system. The hackathon took place as part of
London Food Tech Week
at the
WeWork Moorgate offices
and was sponsored by
Jamie Oliver
– chef, media star, good food advocate, restaurateur and top selling cookbook author. The challenge proposed to the many minds over the course of the three days was, "How
can we use technology to make healthy eating cool
for a generation of kids and young people brought up in a culture where less healthy brands have the biggest marketing budgets?"
The Future Food Institute held a prominent role as an event partner and media supporter, and FFI founder and director Sara Roversi acted as a mentor and judge for the first round of pitching. The institute was represented by a number of fellows from the Food Innovation Program, who after having experienced a number of their own hackathons throughout the year knew exactly how to play the game.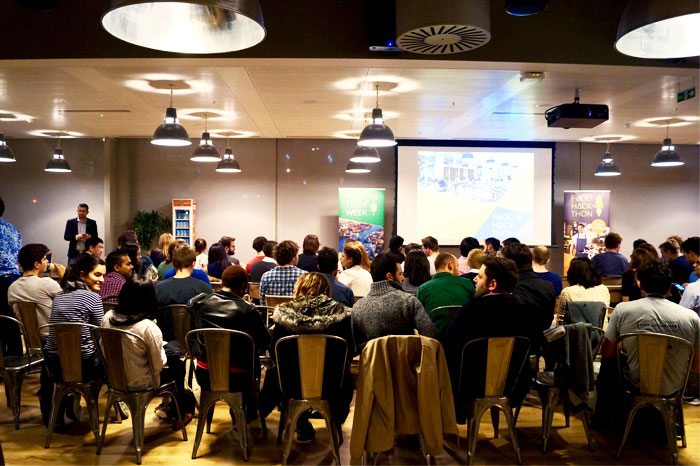 At the kickoff event on Friday, October 16th, global communications director of the Jamie Oliver Group Lisa Tookey appealed to the assembled group of hackers hailing from around the globe: "We want to be
the most trusted voice in food
, to empower everyone to enjoy good food and to push for positive change in our global food system. We are great at creating food content – but what we are less good at is tech, and that's why we are here today. We want to access the best tech knowledge." Her introduction was complemented by words of wisdom from Phil Nash from
Twilio
, working to build the next generation of communications apps. James Roy Poulter of
Pronto London
shared their experience of launching a food delivery startup that focuses on healthy foods. "We like the idea of choice, but for much of our life we don't use most of the options," he shares. Pronto is working to limit choices, making affordable healthy and delicious good food selection the most accessible option.
Ben Pugh, Founder of Farmdrop
presented their effort to get fresh produce to more people at an economical rate. The site functions by allowing users to select food from over 70 local farmers in the London area. Producers do the growing and making, and Farmdrop uses its delivery network to put fresh produce on the user's doorstep. Ben comes from an economics background and has years of experience in food retail. He shares, "It's not about giving people expensive food that happens to be fresh. We are giving people a better product at a lower price." Ben hopes that Farmdrop will encourage people to think about the larger food system, and make better connections between consumers and producers. He wants to make sure, that as the
food revolution arrives
, it will be delicious.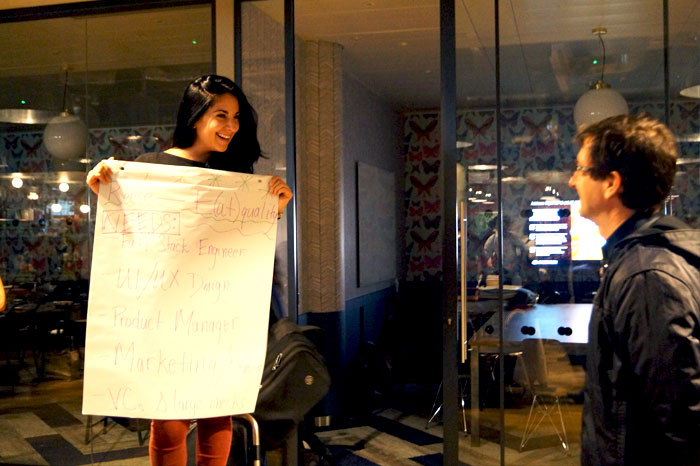 The following day, Ryan Perera, opened up about his experience as Co-Founder of Henchman— a site that
gets you what you want
in less than 60 minutes, working like a digital concierge. The site exploits technology to allow for less time on mundane tasks, and more time on your passions. The system uses complex algorithms and local network data to provide real-time tracking of various services. Ryan sees Henchman as a place for customer service and tech to converge, pairing a physical delivery service with an emotional reaction. Henchman puts their users first, and holding a high work standard to their drivers and team members to make for only the most exceptional experiences.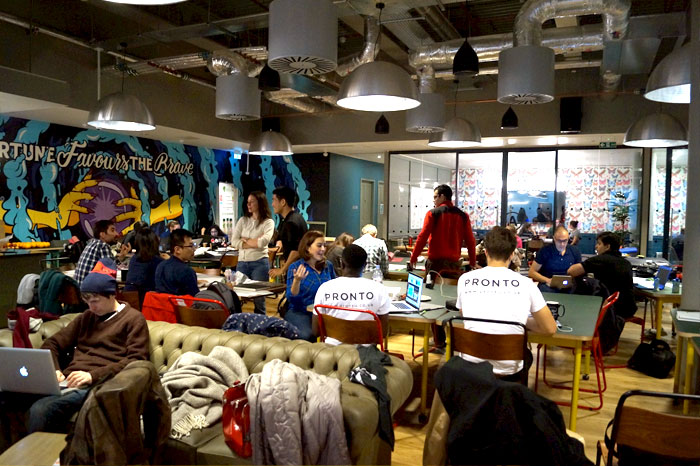 Another pioneer in the food and tech world is JinA Bae, ex Senior Business Analyst at McKinsey, and the co-founder & CEO of CHOPCHOP, a dynamic cooking task management app backed by artificial intelligence. "The entrepreneur's journey has its up and downs," shares JinA, as she speaks of a year of bootstrapping, long hours, and communication difficulties during the startup phase of CHOPCHOP. She reminded the hackers the importance of having diverse skills, so that every team member can bring their own perspectives to the table. She advised hackers and future entrepreneurs to get out there and talk, communicate, and research the market you want to target. She reminded the teams that creating something functional is a commitment to your vision and passion, and that you have to keep looking at your idea and prototype with new eyes to have success.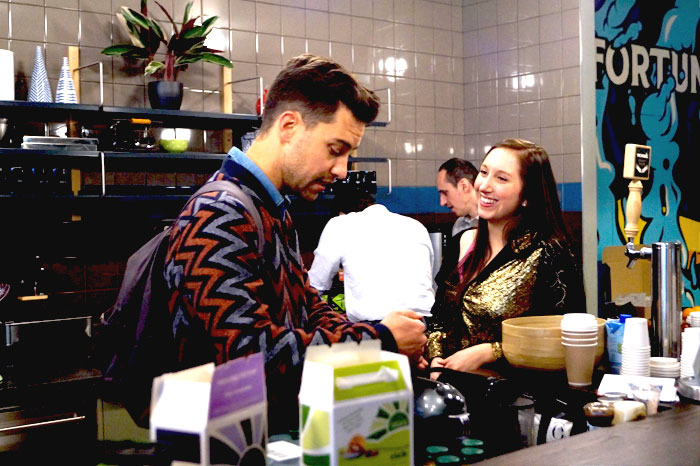 With inspiring success stories throughout the day, individuals then took the stage to make initial pitches. Everything from re-invented happy meals to mapping sustainable nutrition, and wearable mindfulness reminders to smart shopping carts, was put on the table. The working groups were called Hero Food, LunchbloX, Crave, Food 4 Me, Zygote, FoodPow, Jamieat, Team Pluck, Envitarian, NutriNation, and HealthyCash.
During the weekend mentors shuffled through teams giving advice and hearing ideas. Mentors included Ben Pugh of Farmdrop, John Quilter aka The Food Busker on Jamie Oliver's Food Tube and Co-Founder of CRU Kafe, HanSon Lee—Co-Founder of Loaf App, Alex Heeton—CTO, Shaken, James Lethem—Creative Strategist, Carl Petrou—Co-Founder of PandaPay, Bjoern Uehss—Founder of
22tribes.com
, Nicole Bosk—Founder at Adpreneurs, Cory Sealey—Paid and Digital Media Supervisor, Sara Roversi – Founder of the Food Institute, and Phil Nash—Developer Evangelist at Twilio. The groups thought and re-thought, worked and re-worked, and prototyped all weekend.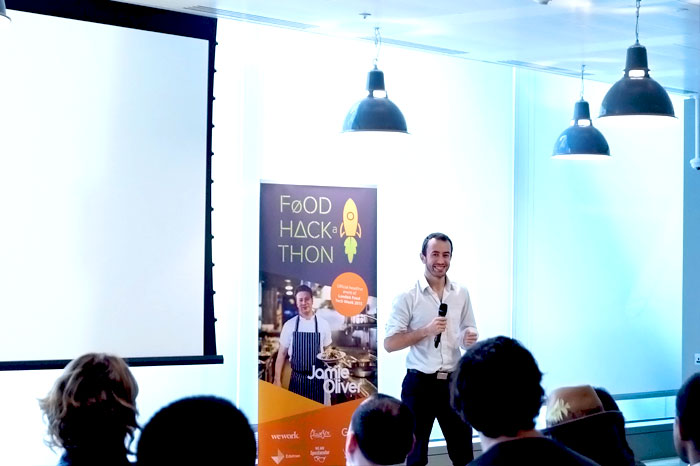 On Sunday afternoon, before the pitching took place,
Google Food Services Manager Jim Glass
shared his insights on the Google Food Program. He spoke about behavioural psychology in food design, and recommended that everyone read '
Slim by Design: Mindless Eating Solutions For Everyday Life'
in which leading behavioral economist, food psychologist, and bestselling author Brian Wansink introduces groundbreaking solutions for designing our most common spaces. Jim gave hackers a taste of what is it like to plan, prepare and track food service in google offices around the globe, giving more insight into eating, environment and technology.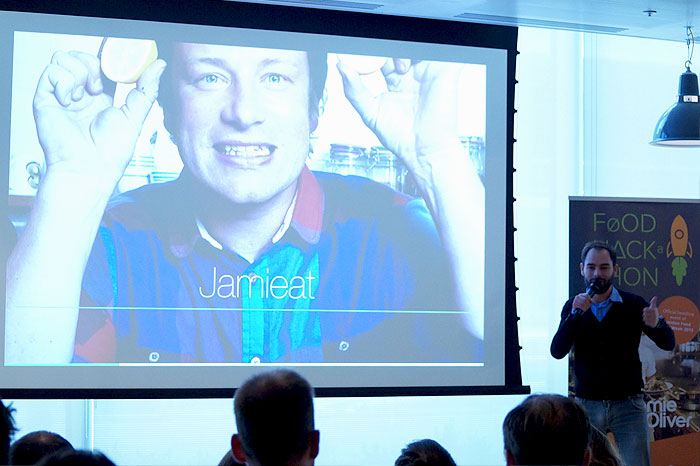 From the initial 11 teams, only five made it through to the final pitching stage. Judges included Zoe Collins—Creative Director, Jamie Oliver Group, Myles Cameron—Technical Director for Edelman Digital UK and Head of the Brighton Studio, Hussein Kanji—Investor, Hoxton Ventures, Camilla Dolan—Investment Manager, MMC Ventures and Ricardo Davilo-Otoya—Startup & Developer Community Manager at Google for UK, IE & NE. The judges based their evaluation on the criteria of Design (ease of use), Customer Validation (Do people what you product?), Business Model (Can this make money?), Technology (Is there a minimum viable product?), Scalability (What's the long term plan?), Innovation (Is this new?) and Pitch & Demo (Can you execute the presentation of your product?).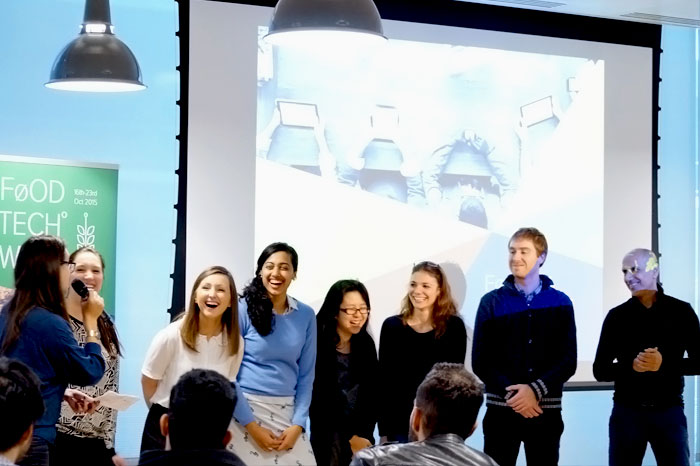 Of the five to move forward there was Jamieat, a technology app that connects Jamie Oliver's pre-existing followers (over
4.1million on Facebook alone
) to give customized recipe and cooking advice. The app would combine real time cooking events with adaptive learning, and motivate users to make better food decisions through texting with Jamie. Hero Food, on the other hand, worked to give kids access to more healthy food choices. It is an app that helps parents experience cooking together with their kids. A fun, simple and engaging way to allow families to spend time together, cooking and reading comics that their children enjoy. FooPow aims to change the destiny of the UK by making healthy eating cool and working towards losing 1 million pounds by 2020 as a country. They combine Pokeman with fitness pal, making a Tomagotchi-like "friend" for kids to track exercise and meals in the app, creating an emotional attachment while driving good healthy behaviors in kids. NutriNation worked to reinvent the happy meal, creating happy meals that are both healthy and fun by rewarding kids with toys for healthy meal choices. NutriMeal stamps can be collected to "purchase" exciting rewards. Food4Me targeted healthy meals for people on the go, combining technology with accessibility to leverage better food for active people.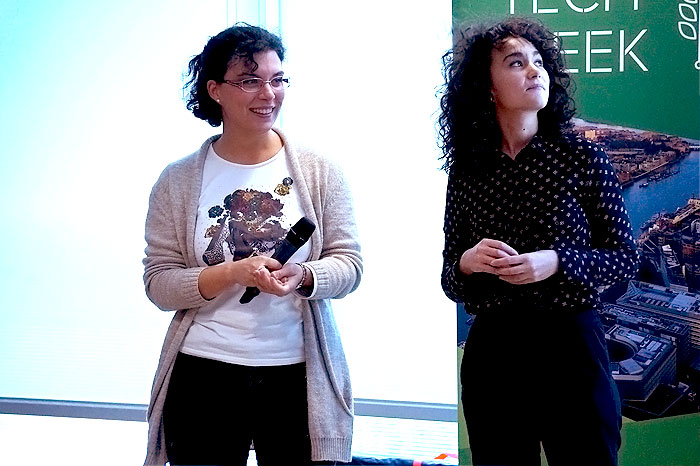 In the end, FoodPow walked away with the grand prize, with their
ability to envision a usable, viable product
that could be attractive to kids both emotionally but also incentive wise to encourage more healthy behaviour around food and exercise. Team members William McIlroy and Manuel Frigerio shared some of their thoughts surrounding the days. Manuel talks about the experience of being on the winning team. "There was such a positive energy from the very first moment, we knew we were going to create something special," he says. Team member William adds, "The Hackathon was incredible – really well organized with high value mentors to shape our journey, and pragmatic start-up guidance that will shape my future entrepreneurial journey. I loved connecting with such incredible entrepreneurs at the event. It was a lot of fun!" The two see FoodPow as a concept that can definitely be developed in the future. "We've got some great momentum, support and partnerships now to take 'FooPow' forward. I really love the purpose beneath the idea and see a lot of potential in where we can take this," says William.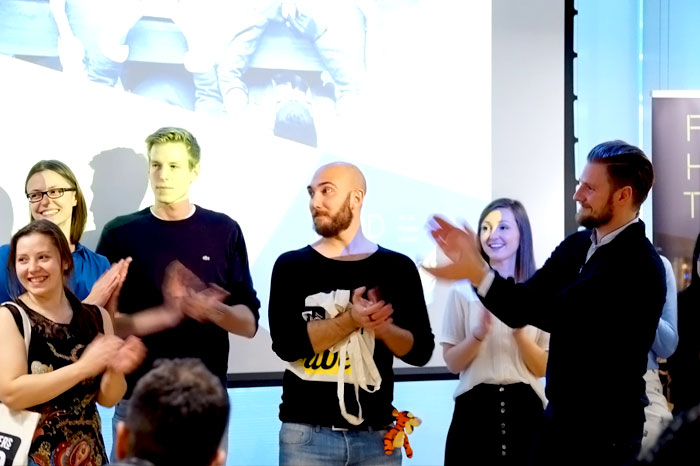 In second place was HeroFood, where our very own Food Innovation Program fellow Elisa Bedin was involved in creating a way to help parents cook easily with their kids, thus perpetuating generational cycles of healthy food habits. "The overall experience at this hackathon was amazing! It was my first one abroad, with both friends from the FIP, and new people. All the different pieces of the puzzle matched perfectly: the environment, the food, the organization and the mentoring," says Elisa. It seems the team was destined for success as they all "got on very well from the beginning. We were happy and proud of ourselves: just to be able to work together and ask the mentors for advice, was a great step! We were surprised [to be selected among the top five] and it took us some time to realize that we came in second place. We're really proud of what we developed! It was a fantastic team and personal experience."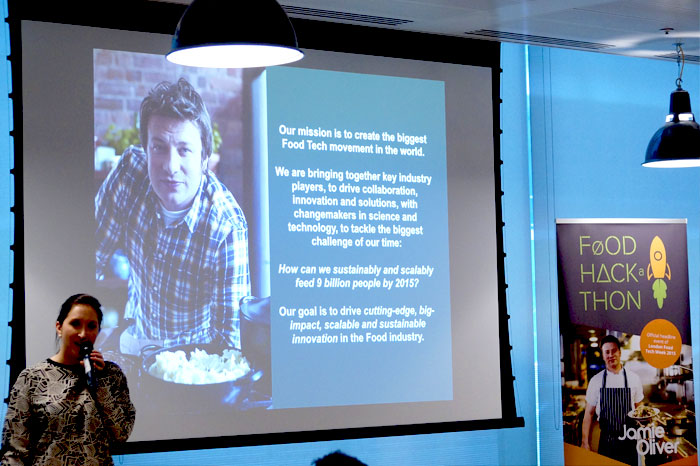 Overall it was an intense three days of creative thinking, little sleep for the organisers, good food and great people.
The Future Food Institute
loved being part of Food Hack London and can't wait for the next installment. The teams took on the tricky task of appealing to and creating something meaningful for kids— a difficult but crucial group to address if we want to make change in our larger dietary, exercise and good food habits. We will keep an eye on the winners as they continue to work on making healthy eating cool for younger generations.