This past weekend, Rome was invaded by
doers, makers, and shakers
coming together from around the world to share in a weekend of innovation where the spotlight shined brightly on those involved in the Makers Movement. Maker Faire Rome is in its third year as the
European edition of Maker Faire
, which originally launched in San Mateo, California in 2006. The faire celebrates people of diverse backgrounds who mix, mingle and demonstrate what they are making, and how they are learning. In 2014 alone there were 131 Faires, bringing total participating attendees to around 1.5 million since initial conception in 2006. The Maker Faire Rome was held at the
University of Rome "La Sapienza,"
where exhibitors are spread out across various pavilions, allowing for the spread of innovation across the event. Team member Alice Bennets speaks about the overall environment: "
I enjoyed the informal, social and shared learning approach to the Makers movement. The other Makers were so open and friendly which is totally the sense of ease you need when you learn."
Workshops, live performances, panels, conferences, and special events for children were all on the line up,
presenting in every area
from Food and Agriculture, to Education, to Drones, to Cultural Heritage and Robotics.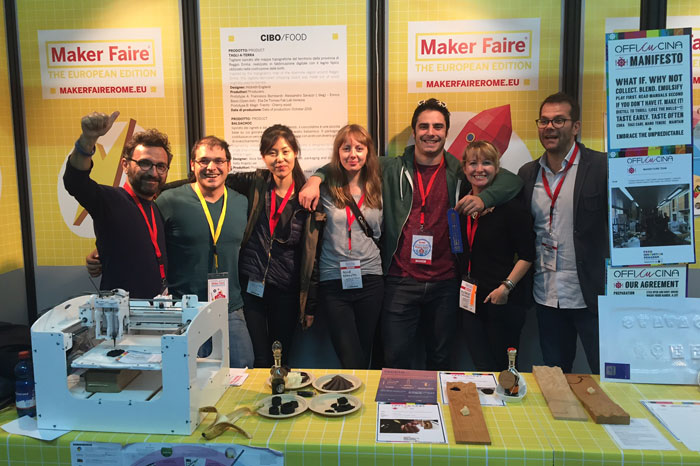 Among those exhibitors was a team from our very own
Food Innovation Program
. Hildreth England, Alice Bennetts, Kelly Angela Lee, Riccardo Fantozzi, Antonio Gagliardi were joined by team leader and Officucina director Francesco Bombardi for a collaboration with Balsamic Vinegar extraordinaries
Acetaia San Giacomo
and honey and chocolate purveyors
Casa del Miele
of Reggio Emilia to create an original food experience with chocolate and balsamic vinegar in the "Contaminazioni" and "Universita" areas of Maker Faire.
Created specifically for the Food Innovation Program, Officucina is an exclusive kitchen hybrid maker space for food innovators that blends culinary tools with 3D printers, laser cutters, sensors, Arduino, and more, offering a unique and creative learning experience for students to develop their prototypes. It is used as a platform for exploration and creation, combining the facilities of an office and a kitchen, to experiment with food innovation in real time.
From Reggio to Roma, they loaded up a car full of gadgets, gizmos and technical equipment to form a display of the latest tools in digital fabrication, all in the name of merging tradition with an innovative future. Taking inspiration from the rich culinary history of Emilia Romagna, the FIP team combined a
heritage product, balsamic vinegar
, with new technology, and was the first to offer 3D printed balsamic from their booth. This particular project, was awarded one of six "Maker of Merit" blue ribbons for being one of the most innovative presentations (of the 700 exhibitors) at Maker Faire.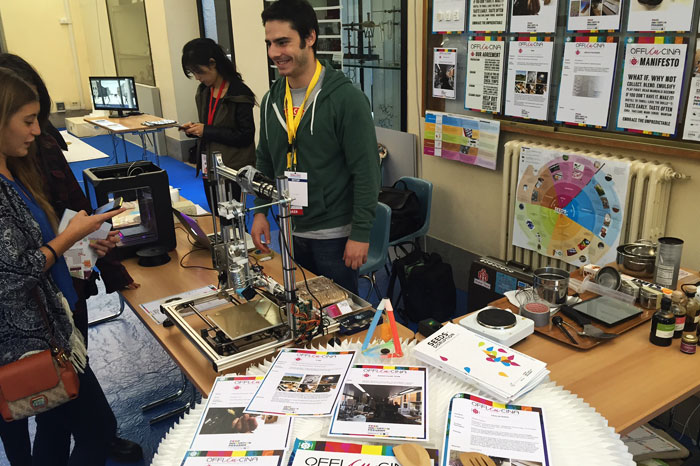 Other popular showcases from the team included the blending of unusual tastes, such as that of balsamic vinegar and chocolate, using futuristic 3D printing to achieve custom, personalized shapes. FIP Fellow Hildreth England shared what she found so invigorating about being in this creative environment: "When we talked about our projects in the Contamination area, people were very excited/interested about the combination of the tastes of balsamic vinegar and chocolate. Those tastes, together, was what elicited the biggest emotional reaction from visitors–the tastes were seen *as* innovative and impressive as the 3D-printed form. This is why I think taste (and the experience of food) is really what drives its future in all forms: digital, analog, traditional, etc." Alice agrees, "Pairing digital fabrication and food allows for a lot of experimentation but it's meaningless unless it tastes good." It sounds like the team hit the jackpot with the chocolate/balsamic mix in both the taste and the innovation elements!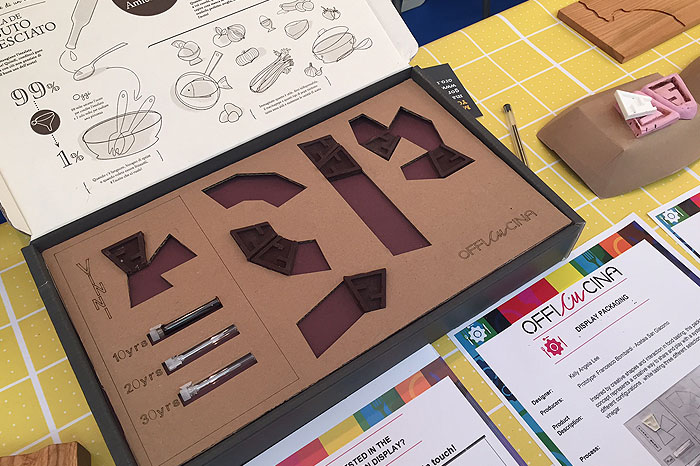 The group
attracted a lot of attention from all sorts of crowds
with their balsamic and chocolate experiments, but it wasn't only about good taste. Hildreth talks about her involvement of bringing together design, taste and production with the Tagli-a-terra prototype. Aged cherry wood from a balsamic vinegar barrel, a topographic map of the ever important Apennine region where balsamic reigns supreme, and 3D software, a prototype tagliere maps the physical Emilia Romagna valley onto a physical board, which can then be combined with the typical products of the area (Parmigiano Reggiano, Aceto di Balsamico DOP) to create an all encompassing food experience that represents taste, tradition and innovation. What Hildreth found most fascinating about blending these concepts is the need for an emotional attachment through technology, which comes naturally in the food world. "There were lots of beeping lights and robots, but I think the biggest takeaway for me was the need for an application and an emotional experience of all this "cool" stuff is what will get people talking. This is where food can come into play," shares Hildreth.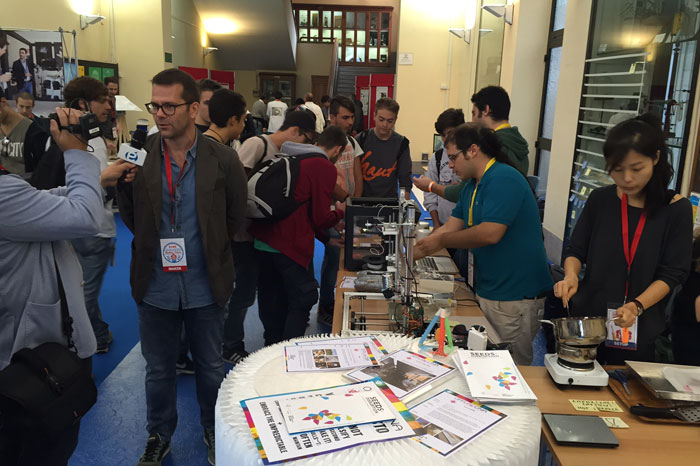 The Officucina team
knocked it out of the park at Makers Faire
, attracting a myriad of visitors over the three days. The group put together special educational segments to invite the young (and young at heart) to try out various applications. A competition for designing and executing 3D printed chocolate shapes garnered a lot of attention and left great young minds hungry, for chocolate and future inspiration. "It is to work in a team," says Alice, "The projects we presented were a collaboration and a shared effort." It was a successful weekend of collaboration, inspiration and
FIP on the road, and hope to see more Making from the crew.