Call per giornalisti | Premio di Giornalismo Agroalimentare EIT Food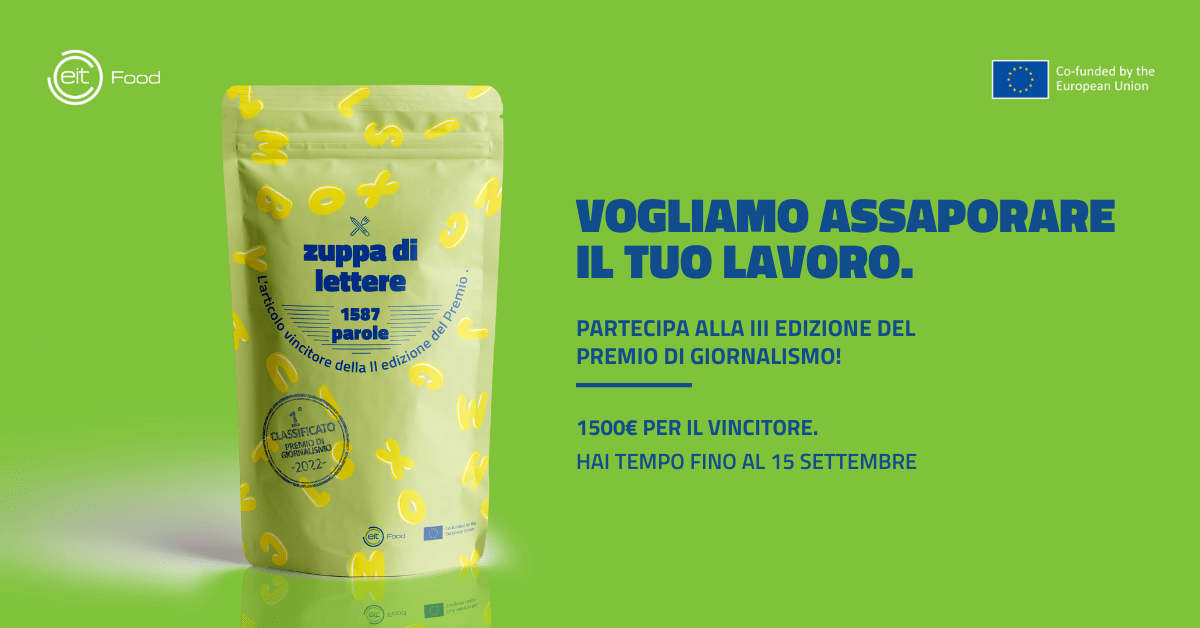 III Edizione del Premio nazionale di Giornalismo EIT Food nell'ambito dell'innovazione e della sostenibilità agroalimentare
EIT Food e il Premio di Giornalismo.  
Il consorzio EIT Food è l'iniziativa leader in Europa per l'innovazione alimentare, il cui principale obiettivo è quello di rendere il sistema agroalimentare più sostenibile, sano ed affidabile.
EIT Food è una delle otto Comunità stabilite dallo European Institute of Innovation and Technology (EIT) con l'obiettivo di promuovere l'innovazione e l'imprenditorialità in tutto il territorio europeo.
Nella volontà di informare ed educare i consumatori – attori chiave nella transizione ecologica del settore –  oltre che di stabilire un rapporto sinergico con i media, EIT Food nel 2019 ha inaugurato il Journalism Award on Food Innovation and Sustainability in Spagna, e dato il successo riscosso, ha poi diffuso l'iniziativa nel 2020 in Italia e nel 2021 in Portogallo.
Quest'anno, la Terza Edizione del Premio di Giornalismo EIT Food è sostenuta a livello nazionale da UNAGA (Unione Nazionale delle Associazioni Giornalisti Agricoltura, Alimentazione, Ambiente, Territorio, Foreste, Pesca, Energie Rinnovabili – gruppo ufficiale di specializzazione dei suddetti temi della Federazione Nazionale Stampa Italiana) e da Future Food Institute.
Bando.
Il Premio di Giornalismo EIT Food è rivolto a tutti i professionisti dell'ecosistema mediatico italiano (stampa, radio, televisione, digitale), regolarmente iscritti all'Ordine Dei Giornalisti, che hanno pubblicato, diffuso, o trasmesso tra il 1 settembre 2021 e il 31 agosto 2022 opere giornalistiche incentrate su uno o più dei seguenti temi:
-Alimentazione sana e a prezzi accessibili;
-Sostenibilità nel settore agroalimentare;
-Innovazione nel settore agroalimentare;
-Educazione alimentare;
-Alimentazione orientata al consumatore;
-Imprenditorialità agroalimentare;
-Collaborazione interaziendale nell'agroalimentare;
-Importanza economica del settore agroalimentare;
-Digitalizzazione nell'agroalimentare;
-Il settore agroalimentare nell'attuale, complesso, periodo storico.
Sono ammesse opere firmate con il proprio nome o con uno pseudonimo, realizzate individualmente o in gruppo, per un massimo di tre per ciascun candidato.
Il regolamento completo è disponibile qui, la presentazione delle candidature è gratuita e dovrà avvenire online entro e non oltre il 15 settembre alle ore 23:59.
Premi in denaro e scorse Edizioni.
Il Premio di Giornalismo EIT Food prevede un premio di 1.500 euro per il primo classificato e di 700 euro per il secondo. Il premio in denaro vuole simboleggiare un sostegno all'attività del giornalista, uno stimolo per ulteriori iniziative nonché una spinta per la sua immagine pubblica come fautore di buone pratiche giornalistiche.
I vincitori della I edizione del Premio di Giornalismo sono stati:
1° classificato – Tommaso Cinquemani con "New Breeding techniques" pubblicato su Agronotizie.
2° classificata – Valentina Celi con "Fattoria della Piana, la rivoluzione green parte da qui e "la Calabria buona si muove" pubblicato su La nuova Calabria.
I vincitori della II edizione del Premio di Giornalismo sono stati:
1° classificato – Federico Turrisi con "Quanta CO2 emette un prodotto alimentare? Ecco perché l'etichetta climatica non sarebbe una cattiva idea" pubblicato su Ohga.
2° classificato – Gianluca Atzeni con "L'UE cambia idea sulle biotecnologie. Per il vino è davvero una nuova opportunità?" (pp. 24-29) pubblicato su Tre Bicchieri.
Giuria.
La giuria della Terza edizione del Premio di Giornalismo EIT Food nell'ambito dell'innovazione e sostenibilità agroalimentare vanta professionisti del settore a livello nazionale ed internazionale. In particolare:
-Lorena Savani – Innovation manager di EIT Food CLC South
-Roberto Zalambani e Antonella Monaco – rispettivamente Presidente e Consigliera Nazionale di UNAGA
-Sonia Massari – Direttrice della Future Food Academy
-Salvatore Giannella – Giornalista e scrittore
-Giacomo Cavalli – Relationship Manager di Federated Innovation @MIND
-Federico Turrisi – Giornalista vincitore della Seconda Edizione del Premio
La giuria sceglierà i due vincitori, e consegnerà loro i premi, durante una cerimonia di natura pubblica che avverrà nel mese di Novembre 2022, in data e luogo che saranno specificati sul sito web ed i canali ufficiali di EIT Food.
Criteri di valutazione.
Le opere partecipanti al Premio saranno valutate sulla base dei seguenti criteri:
-Rilevanza e originalità (30%): Sarà valutato il tema scelto e la sua rilevanza nel e per il settore agro-alimentare, oltre che gli elementi di novità o approccio originale.
-Chiarezza espositiva (30%): Sarà valutata la qualità della struttura narrativa dell'opera.
-Profondità della trattazione (30%): Sarà valutato il rigore scientifico e/o informativo della trattazione, oltre che la consistenza e diversità delle fonti citate.
-Attualità (5%): Sarà valutato il legame dell'opera con gli argomenti di attualità.
-Impatto (5%): Sarà valutata la capacità dell'opera di essere diffusa, e raggiungere un pubblico il più ampio possibile.