6th Annual Week of Italian Cuisine in the US | Food of the Future: Sustainability and Innovation
17 November 2021 @ 18:00
PST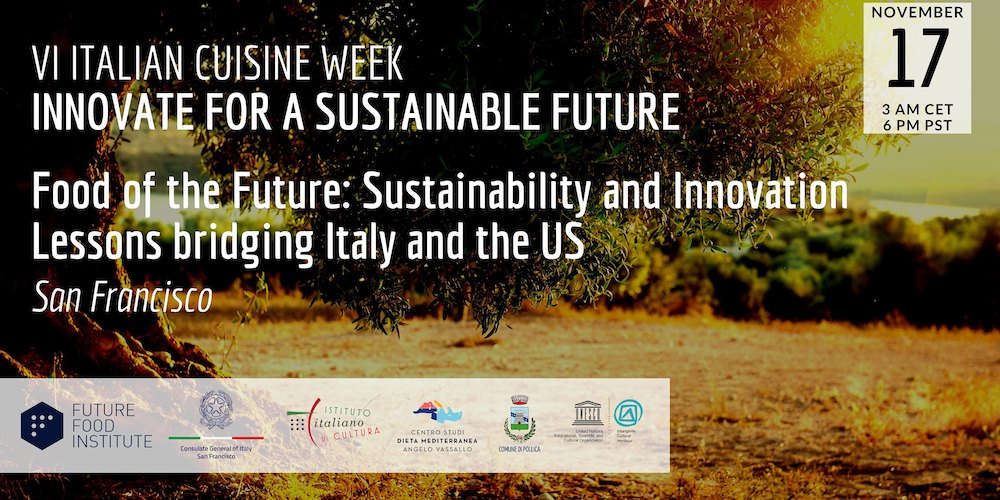 Food of the Future: Sustainability and Innovation – Lessons bridging Italy and the US
November 17, 2021 |  6:00 PM Pacific Time
Food is a constant subject of innovation: companies apply process and product innovation to improve the way we grow, collect, distribute, cook and eat our food. This panel will dive into different definitions of sustainability, talking about environmental sustainability through science and technology, social sustainability through community activation, and systemic sustainability through education and learning.
The three speakers, as well as the moderator, have strong tights with both American and Italian cultures, as one of the purposes of the event is to share lessons and experiences bringing the two countries together.
Webinar organized in cooperation with Future Food Institute, under the auspices of the Italian Consulate General of San Francisco.
Speakers:
Michelle Sisson (Apeel Sciences)
Pietro Jonathan Bonanno (ICS)
Greg Drescher (CIA)
Moderated by Chiara Cecchini. Opening remarks by Consul General of Italy Sergio Strozzi and President of Future Food Institute, Sara Roversi.
ABOUT
MICHELLE SISSON
Michelle Sisson brings over ten years of experience in marketing and strategic communications to food waste technology pioneer Apeel Sciences, where she helps bring new products to global audiences as a Senior Manager of Product Marketing. A California native, Michelle draws inspiration in reducing food waste from living and working throughout Italy early in her career. After studying political science for a year at the University of Bologna, Michelle returned to Italy to design and lead weeklong biking vacations in Puglia, Piedmont and Tuscany for a leading active travel company. Following graduate school, she entered the food industry, where she helps technology companies drive adoption for sustainable food innovations. Michelle holds a B.A. from the University of California at San Diego and a M.S. in Agriculture, Food and Environment from the Friedman School of Nutrition Science & Policy at Tufts University.
GREG DRESCHER – Vice President, Strategic Initiatives & Industry Leadership, The Culinary Institute of America
Greg Drescher oversees CIA leadership programs for the foodservice industry, digital media, and strategic partnerships. He is the creator of the college's influential Worlds of Flavor International Conference & Festival, the annual Worlds of Healthy Flavors and Menus of Change leadership conferences, presented in partnership with Harvard T.H. Chan School of Public Health's Department of Nutrition, the Healthy Menus R&D Collaborative, and numerous other CIA "think tank" initiatives.
In 2008, Drescher was appointed by the National Academy of Sciences Institute of Medicine to its Committee on Strategies to Reduce Sodium Intake, whose final report was published in 2010. Before joining the CIA in 1995 as Director of Education at the college's Greystone campus in California's Napa Valley, Mr. Drescher jointly spearheaded a multi-year collaboration of some of the world's leading health experts and organizations—including the Harvard T.H. Chan School of Public Health and the World Health Organisation.
PIETRO BONANNO – Managing Director of Italian Community Service
Pietro was born in Sicily from an American mother and a father from Palermo. When he was nine he moved to San Francisco with his family where he stayed until high school, to then go to Connecticut first, where he studied International Relations, Italian Literature and Anthropology, and to Milan later, to take his MBA from SDA Bocconi. Pietro worked for the American diplomatic corps in the role of political consultant at the American Embassy in Rome, and now, back in the Bay Area, Pietro joined the Italian Community Services as Managing Director. The Italian Community Service is the oldest Italian Foundation in North America, and has the goal to support and inform the Italian and American-Italian community in the Bay Area.