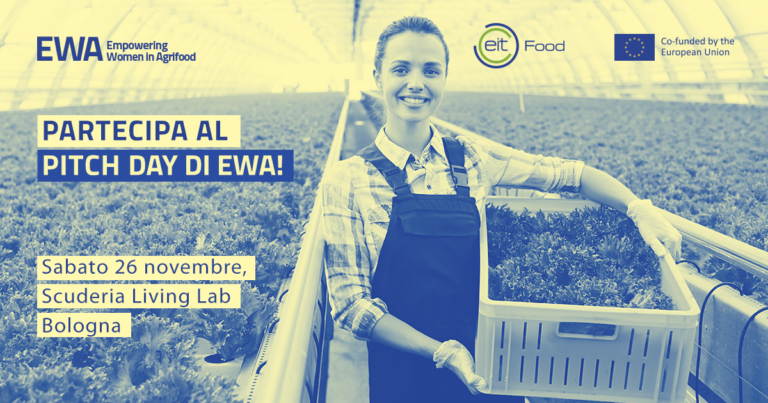 EWA | Empowering Women in Agrifood
 is a 6-months entrepreneurial program, promoted by EIT Food and tailored to create business solutions for specific challenges in agrifood. More precisely, 
130 talented female entrepreneurs
 from 13 countries with modest to moderate innovation rates (Bulgaria, Croatia, Cyprus, Czech Republic, Greece, Hungary, Italy, Latvia, Lithuania, Malta, Portugal, Spain and Turkey) have access to training, mentoring, business coaching and networking opportunities.
The Italian program of EWA has been jointly organized by EIT Food, Europe's leading food innovation initiative, whose main goal is to make the agrifood system more sustainable, healthy and reliable, and the Future Food Institute. 10 Italian women entrepreneurs with projects in the agri-food sector have been followed by experienced mentors in a 6-month program that led them to realize their innovative ideas.
After the training, mentoring and networking opportunities offered, the Pitch Day has just arrived: a pitching competition that will award the two best Italian ideas with a prize of €10.000 and €5.000, respectively.
Agenda:
Panel "Feeding the Planet, Energy for Life", moderated by Sara Roversi (President & Founder, FFI)
Roberto Mazzei, Coldiretti 
Isa Maggi, Stati Generali delle Donne
Simona Caselli, Areflh
EWA Pitching Competition among the 10 entrepreneurs who took part in the project:
Annalisa Acconciaiocco – T-EAT-ro: A format to provide support & advice for implementation of lab activities. The activities aim to provide food education, enhancement of nutritional & nutraceutical quality and provide technical support.
Cristina Diomede – ZiaCris: Build a network of producers in the area that sell organic products and km0; organize working days at the producers, self-production courses, horticulture, recycling and anti-waste.
Elisa Altomonte – Consorzio Sugherete del Golfo: Use local cork as material for food packaging, trying to enhance its natural insulating characteristic.
Irene Cavalleri – oleU: Creation of an innovative seasoning that acts as a nutraceutical, useful to prevent and combat cardiovascular, metabolic, neurodegenerative and oncological diseases.
Linda Montagna – L'eco della Terra: Grow healthy food with techniques that aim at soil regeneration and nutrient food production. Promote conscious consumption through: sales, consulting, and production of zero waste items.
Sarah Khoudja – CUCilento: Reduce the use of plastics in the agro-food sector, contributing to social regeneration and allowing other women to participate in a recycling movement of material for the production of zero waste and upcycling items.
Silvia Santato – FilieraBiochar.Net: Pyrolysis and multifunction stove for the recovery of waste biomass and the production of heat and biochar.
Susanna Graziano – Mindful Morsel: Sustainable e-commerce of 100% vegetables. Made in Italy, sustainable foods and production workshops.
Valentina Pressanto – Fica Secca: Recovering unsold goods from small organic farms to dry them at low temperatures with alternative energy powered tools.
Viviana Aiello – Cori miu: Create jams and marmalades that are the combination of traditional Sicilian recipes and innovation improving the nutritional profile and sustainability.
The first prize went to Elisa Altomonte, with the project Cicobò.
The idea stems from the desire to make a contribution to the area where Elisa lives, Cilento. This geographical area is home to the only core of cork oaks in the Campania region, which has been abandoned for far too many years. CICOBò is a natural thermal box made of cork from the Cilento region and recycled corks, useful for transporting or packaging agri-food products, and more. Its main function will be above all to support the creation of a local micro-factory for Cilento cork and thus counteract the abandonment of these beautiful forests, the cork oak forests.
The second prize was awarded to Irene Cavalleri, with a project about Oil. Creation of an innovative seasoning that acts as a nutraceutical, useful to prevent and combat cardiovascular, metabolic, neurodegenerative and oncological diseases.
The Pitch Day took place in Bologna at Le Scuderie Living Lab, in Piazza Giuseppe Verdi 2.
Watch the streaming event
YouTube.