24-Hour sustainability marathon
Bringing together the brightest minds and best practices on sustainable food systems for regenerating the planet, Future Food and FAO organize this annual, virtual marathon of positivity. 
The event is part of the initiatives coordinated by Earth Day Network, a movement of more than 75,000 partners in over 190 countries to drive positive action for the planet, funded in part by the World Bank. 
Traveling around the world, touching all G20 countries, it is the largest global lesson on the regenerative power of food systems ever broadcasted. 
This collaborative, knowledge-sharing experience, fully aligned with the UN Sustainable Development Goals framework, is human + planet centered featuring the prosperity-thinking approach, by placing nature back at the center of our lives. 
"The lessons learned during Food for Earth Day are the basis for rethinking business as usual because business as usual is part of the problem. For real change, we need systemic thinking, multi-stakeholder platforms, and multidisciplinary profiles. In this sense, the marathon represents a unique example both of extraordinary content and of the power of partnership between the public and private sectors to contribute to new, circular, and regenerative practices."
Sara Roversi, Founder & President, Future Food Institute
After the success of the first edition in 2020, which brought together more than 100 expert voices, with 24 working sessions, and registered over 100 thousand participants around the world, the virtual relay race for the planet returned. Like the symbolic Olympic torch, it traveled from East to West involving indigenous communities, entrepreneurs, startups, scientists, journalists, innovators, Nobel laureates, ministers, farmers, chefs, and young activists from every corner of the world to promote the best practices in sustainable food systems.
Together with FAO's elearning Academy, Future Food marked the anniversary of Earth Day with a 24-hour global marathon on sustainability.
The diverse work sessions that occurred across the globe were compiled into a single publication outlining the ideas and initiatives that are positively impacting international communities, available to download below.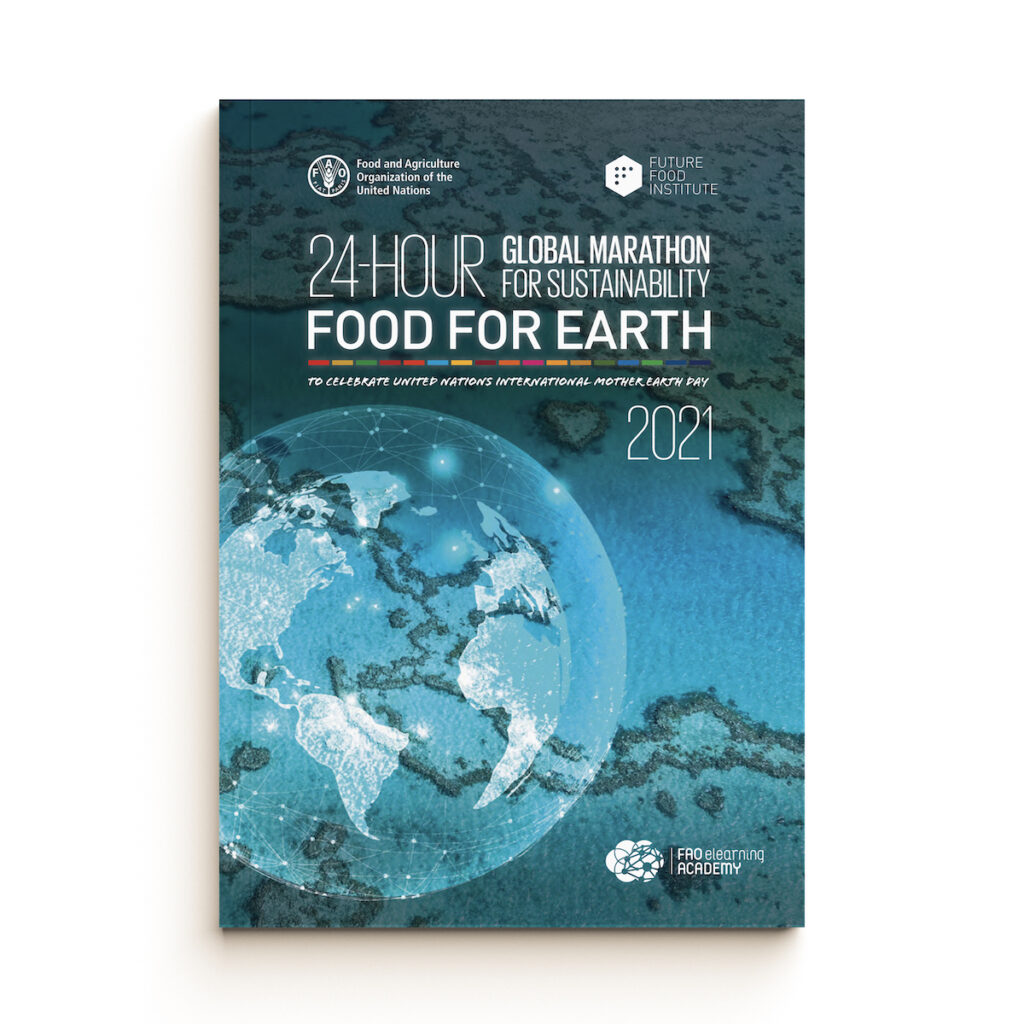 Fill in the form here for more information on our Global Marathon or to get involved in the next one.