VI Italian Cuisine Week: Innovate for a Sustainable Future
25 November 2021 @ 9:00

-

11:00

CET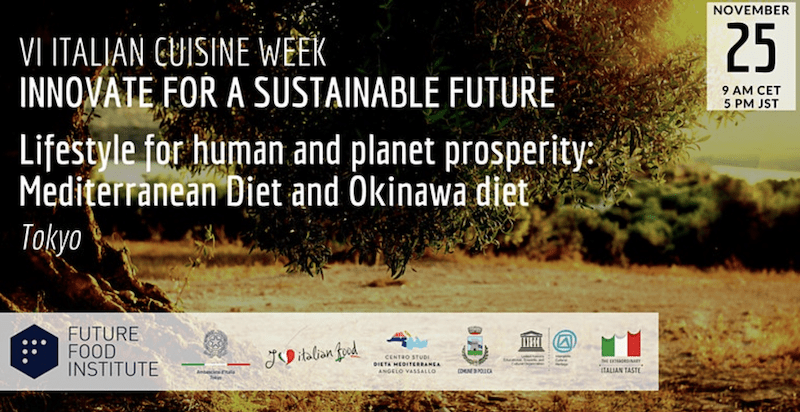 On the occasion of the "VI Week of Italian Cuisine in the World" organized by the Ministry of Foreign Affairs and International Cooperation, the Future Food Institute promotes, with the Municipality of Pollica and Centro Studi Dieta Mediterranea "Angelo Vassallo", from November 16 to December 3, a schedule of events related to the themes of food, Mediterranean Diet and innovation, as a lever both of competitiveness and sustainability for the promotion of the Country System.
The agenda connects the globe from East to West and involves 8 Italian Embassies and Consulates, prestigious Cultural Institutes and private organizations of the foreign and national panorama. Everyone will witness the dynamics related to Italian cuisine, innovation and the Mediterranean Diet as the glue between Italy and the World.
Tokyo – Lifestyles for human and planet prosperity: connections between Mediterranean Diet and Okinawa Diet
Eleven years after its nomination, there is a growing awareness of how the Mediterranean Diet is much more than just a food model, but a wealth of science, traditional knowledge, skills and identity values generated by a territory, Cilento, which can be considered as a real laboratory of biodiversity of land and sea, capable of releasing a natural wealth unique in the world.
Like Cilento, Okinawa, the island of the Ryukyu archipelago in the south of Japan, is the cradle of one of the most famous millenarian diets for the wholesomeness of its eating habits, which make the island historically known for the longevity of its inhabitants and for this reason called "the land of immortals". The Okinawa diet is not only about eating habits, but, just like the Mediterranean Diet, it represents a lifestyle which focuses on the wellbeing of people and of the planet. The online panel, organized by the Future Food Institute, in cooperation with the Municipality of Pollica, Centro Studi Dieta Mediterranea "Angelo Vassallo" and I Love Italian Food, under the auspices of the Embassy of Italy in Tokyo, will dive deep into the parallelism between these two sustainable lifestyles.
AGENDA – (The panel will virtually connect the Kyobashi Living Lab and the Pollica Living Lab, the Paideia Campus, located in the Castle of Principi Capano.)
Introductory remarks
Gianluigi Benedetti, Ambassador of Italy in Tokyo
Panel
– Stefano Pisani, Mayor of Pollica
– Elisabetta Moro, Co-director, MedEatResearch and Professor, University Suor Orsola Benincasa
– Craig Willcox, Okinawa Research Center for Longevity Science
– Luca Fantin, Italian Michelin-Starred Chef of "Il Ristorante – Luca Fantin" at the Bulgari Ginza Tower in Tokyo
Q&A
Moderator | Chris Krause, Director Future Food Japan
Follow live coverage of the event on the Future Food Institute channels:
FB: https://www.facebook.com/futurefoodinstitute