Italian Cuisine Week 2022
12 November 2022

-

20 November 2022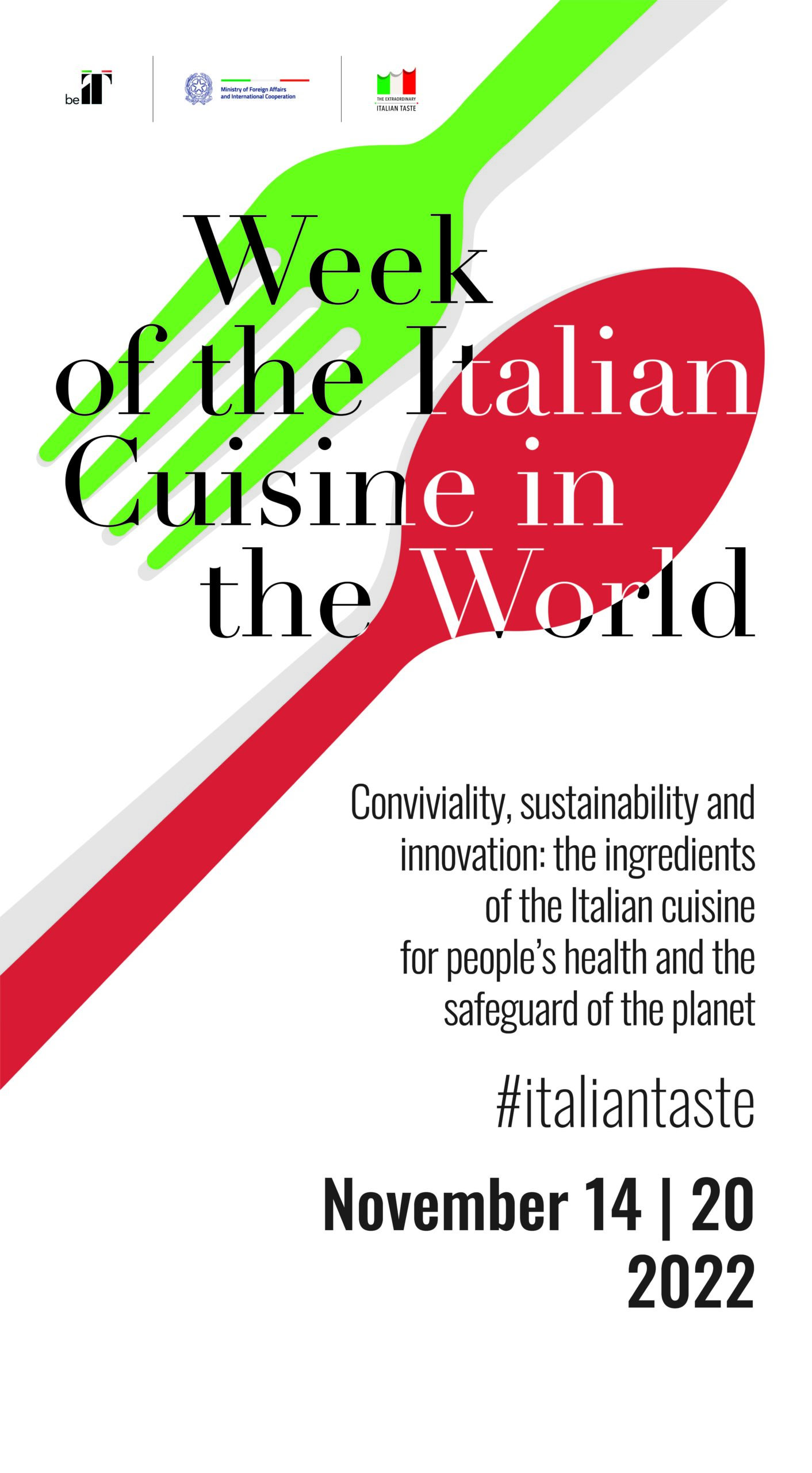 The 7th Edition of the Italian Cuisine Week,  promoted by the Italian Government – Ministry of Foreing Affairs – will be held from November 14th to 20th 2022.
This year's theme: "Conviviality, Sustainability and Innovation: the ingredients of Italian cuisine for the health of People and the protection of the Planet".
This year's theme represents an opportunity to promote the quality of Italian agri-food products; to enhance the values of the Italian sustainable and healthy lifestyle rooted in the Mediterranean Diet and to foster innovation in the agri-tech field in order to rethink our dysfunctional agri-food systems.
Future Food Institute will support this celebration in 4 main countries: 
Kazakhstan

(Astana), November 12-15, with the Italian Embassy;

Germany

(Berlin), November 15-16, with the Italian Embassy;
The Head of Institutional Relations and Global Strategic Partnerships of the Future Food Institute, Claudia Laricchia, will be in Berlin for 2 activities related to the Italian Cuisine Week and specifically focused on "regenerative agriculture": 
Business Matching between 12 Italian AgTech startups, who won a contest for attending the event, and potential partners and investors in Germany with Dock3; 

Panel on Regenerative Agriculture
United States

(New York), November 16 – 18, both with the Italian General Consulate and with the Italian Ministry of Agriculture and the United Nations 
Future Food Institute will be in New York from November 16 to 18 for 2 different initiatives: 
Initiatives with the

General Consulate of Italy from November 16 to 18

Business Matching

for 4 Italian Food Tech startups;

Training to 5 Italian Restaurants

in NY on sustainability: 

Masterclass at the

Culinary Institute of America.
Event at the United Nations on November 18th on Mediterranean Diet.
Japan

(Tokyo), November 17, with the Italian Embassy. 
The Future Food Japan is organizing an event featured with the Ambassador of Italy in Tokyo as the guest of honor. The speeches that will take place aim to highlight the importance of culture for conviviality, to innovate traditions and to put strategic projects related to sustainability at the center of the work. In addition, during the event, it will be shown how through ancient techniques such as fermentation, it is possible to imagine a healthy future for people and to preserve, to prosper the Planet. This event is among a series of events organized by the Italian Embassy in Tokyo to build bridges between Italy and Japan, highlighting the richness and dynamism of culinary identities.